2-TOEFL Test Preparation Course
Certificate of Authorization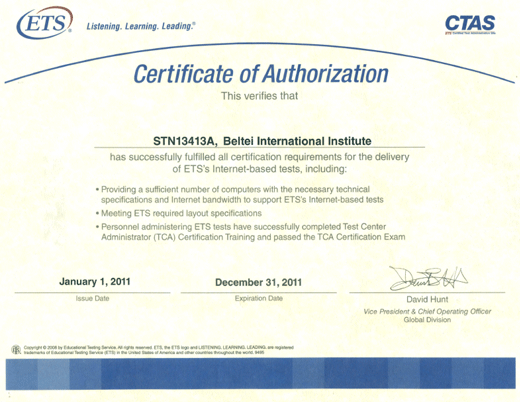 A-BELTEI TOEFL Testing Center

BELTEI International School is a TOEFL Testing Center which is authorized by Educational Testing Service (ETS) for official iBT test in Phnom Penh.

B-About TOEFL

TOEFL stands for Test of English as a Foreign Language established by Educational Testing Service (ETS). TOEFL is the international test to measure the English abilities, which is recognized for more than 130 countries in the world. The new TOEFL iBT test consists of four sections: Reading, Listening, Speaking, and Writing. All sections are taken on the same day, and the entire test is approximately four hours long.

C-TOEFL Preparation Course

The course offers a variety of preparation and practice materials to help the students do well on the TOEFL. These include free sample questions, practice tests (Mini Tests and Complete Tests), a CD with listening passages and spoken answer, a multimedia program to help with pronunciation, and detailed tips and information for understanding more about the TOEFL iBT. The course also covers: Test Taking Strategies, Presentation of Experienced Test Takers, Presentation of an Authorized TOEFL iBT Test Administrator and Regular Practice in Real TOEFL iBT Test Lab.

D-Quality

-Students study and take the real practice in the official TOEFL Testing Room of BELTEI.
-Students take sample test which is the exactly the same to the real one, which prepares students for high scores in the real test.

E-Teachers

All teachers at BELTEI International School are native speakers and qualified for the course. They were awarded Pedagogy certificates and are holding Bachelor and Master Degrees. They are all patient, creative, talented and have earned years of Experiences in teaching.

F-Classroom

Each classroom is equipped with Air Conditioners and Camera to keep in touch with students' activities and teachers' teaching. The number of students is limited to 20 to 25 in each classroom. Students get more chances to practice the same tests on the internet as the real ones.

G-Teaching Materials

BELTEI International School installs posters on the walls in each room, and there are portable LCDs, Overhead Projectors, TV, Flash Cards, Story Cards, Internet and E-mail, language laboratory, large library, and an exclusive modern generator which facilitate the school in case of a blackout.

H-Course Curriculum

All books, study and teaching materials are sponsored and supported by McGRAW-HILL Education, one of the biggest book publishers in the United States.











I-Tuition Fees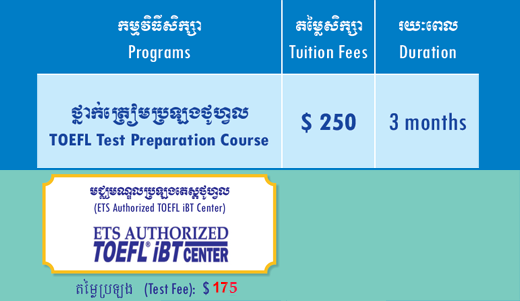 II-Terms and Dates